Dachshund (Standard Smooth-Haired)
This recognisable breed is characterised by its long back, short legs, and diminutive stature. Despite its small size, the Standard Smooth-Haired Dachshund remains strong and robust, boasting a well-muscled body, a broad chest, and sturdy front legs. Its coat is short, dense, and smooth, available in a variety of colours.
At Coots at Eversden we only breed FCI & The Royal Kennel Club recognised Breed Standard Colours. This is to ensure excellent health and quality.
All our boys and girls are recognised Champions prior to becoming mothers and fathers. Each dog has also been inspected by a minimum of three breed specialists.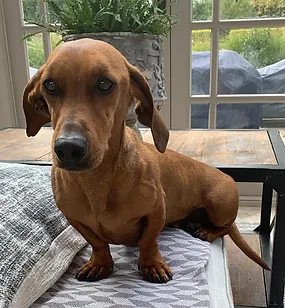 Mr Coot
Actually called Hugo, nicknamed Coot.
Coot is a Shaded Red big strong Standard Dachshund.
Coot spends his time basking in the sun or hunting for rabbits. He's fit, muscular and very handsome.
Always the brother and never the father, Hugo is gentle, kind and will always wait for everyone else to take a turn before he does. A true gentleman.
One day we will find out what other breed of dog Mr Coots is mixed with, but to us he's just perfect, so who cares!
*Shaded Red Standard, Non KC
Mr Blue
Our Russion Stud, bred from Champion lines from the well known Primum Genus Kennel. Blue is an exceptionally handsome Silver Dapple Standard. Loves the ladies but a very sweet and loving boy.
He stole our hearts on first meeting him and we are delighted he is now part of Coots Puppies family.
*Silver Dapple Standard, KC Registered, FCI Certified, Fully Health Checked
Master Ralph
Master Ralph loves nothing more than playing with his dad Flaming and his brother Jacky.
Whilst he may look like a strong and handsome aloof boy. He is super gentle, loves cuddles and is a good listener.
A true Champion just like his Father and Brother, Ralph has exceptional pedigree and a winning personality combined.
*Black and Tan Standard Smooth, FCI Registered, Health Tested
Our Ernie
This is Ernie. He is the Son of Coots Bibby and Fred. A magnificent Cootscanis bred boy that we cannot wait until he is old enough to be a father himself.
A Red Smooth Standard boy , this chaps fur is like velvet and his temperament is to match. Soft and gentle and a fun loving boy.
Of course, how can we not mention his ears! This boy is the most handsome hound we have had the privilege of breeding. We are immensely proud of him.
*Red Standard, KC Registered, Fully Health Checked.
Mr Frederico
Our stunning boy Freddy is himself a champion winning many Junior Champion and Best of Show titles across Eastern Europe.
Freddy is handsome, proud and very polite. He loves his family and is always gentle with the girls. We love his striking red coat, he's always shiny.
*Red Standard Smooth Haired, KC Registered, FCI certified, Fully Health Checked
Master Flaming
As his name suggests, our boy is Flaming Hot! His handsome looks and regal stance mean he is a winner in both the show ring and the kennels. All the ladies adore him.
Flaming has sired many Champions. He is a true superstar.
When not looking striking for the cameras, he loves a good Anter, that keeps him happy for hours!
*Black and Tan Standard Smooth Standard, FCI registered, Health Tested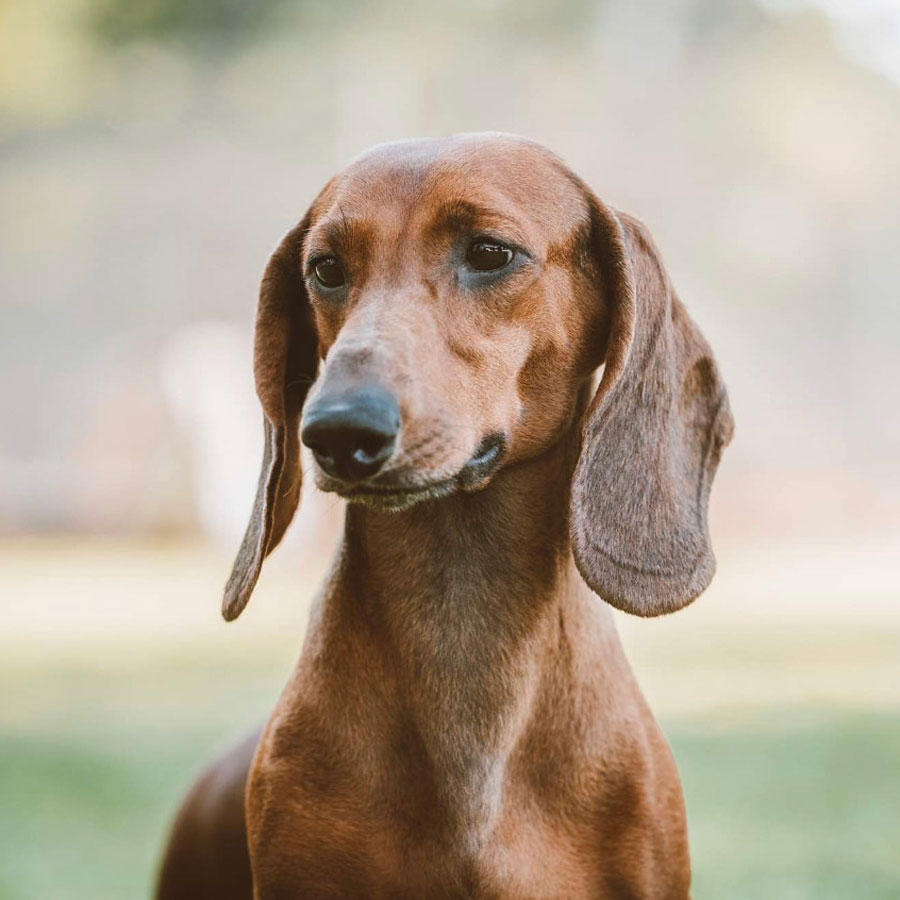 Lady Gella
Gella is a true lady. She is gracious, kind, ridiculously beautiful and has exceptional pedigree.
No stranger to the show ring, Gella is a Champion in many counties. She has also blessed us with some of the most impressive Standard Smooth Dachshunds. Her children hold Multiple Country Championship titles including Best of Breed and Best of Show.
We are totally smitten and beyond proud of our girl.
*Red Standard Smooth Dachshund, FCI registered, KC registered and Heath Tested
All Coots Sausages are fully health tested. We are happy to share Health Reports with prospective new Coots Puppy Owners.