Dachshund (Miniature Smooth-Haired)
This recognisable breed is characterised by its long back, short legs, and diminutive stature. Despite its small size, the Miniature Smooth-Haired Dachshund remains strong and robust, boasting a well-muscled body, a broad chest, and sturdy front legs. Its coat is short, dense, and smooth, available in a variety of colours.
At Coots at Eversden we only breed FCI & The Royal Kennel Club recognised Breed Standard Colours. This is to ensure excellent health and quality.
All our boys and girls are recognised Champions prior to becoming mothers and fathers. Each dog has also been inspected by a minimum of three breed specialists.
Our Lad Ronnie
Ronnie is a mini smooth from highly reputable blood lines. Selected carefully for our Coots mini girls Peggy ,Maggie & Elsie.
A sensitive gentle boy who is super kind.
Whilst Ron is still just a young boy, we look forward to him being able to sire what we truly believe will be amazing dachshunds.
Ron's favourite things are Slippers, Antlers and his teddy.
We are very excited to watch this little fella grow.
*Miniature Smooth Silver Dapple and Tan, KC registered and fully Health Tested
Miss Saffy
Saffy ( Saffina) is a perfect little girl who always has a twinkle in her eyes. She's sweet, loving and no stranger to the show ring, our true mini champion.
Saffy's favourite pastime is playing with the other mini girls. She loves to explore.
We are excited for Saffy to have babies as we know they will be just perfect like their mommy.
*Black and Tan Miniature Smooth, FCI registered, Health Tested.
Miss Peggy
Peggy is a wonderful character. She's strong and capable, super fun and loved by all her Coots brothers and sisters.
A perfect pedigree and is a fantastic example of a miniature dachshund. A perfect 5 kilos with a silky smooth Black and Tan coat and lovely log hound ears.
Playing in the tunnel in the Coots nursery is her favourite pastime.
*Black and Tan miniature smooth. KC Registered. Health Tested
Miss Maggie
Maggie Moo is quiet and well mannered making her a firm favourite at Coots. Always looking to please and always kind and loving. A perfect little sausage.
Maggie has excellent pedigree, with carefully selected Hungarian bloodlines, she comes from excellent pedigree and Champion lines.
​
Maggie PRA Clear and Fully Health Tested.
*Black and Tan smooth miniature, KC Registered, Fully Health Checked
Miss Malone
If you have smelt the fragrance of Jo Malone then you will understand why this little treasure was named Malone.
Malone is exquisite. She is petite, pretty and has a great future ahead of her here at Coots Puppies.
Malone has been cherry picked for her exceptional breeding. Her pedigree is impeccable, she is a true princess to us.
*Red Smooth Miniature, KC Registered, FCI certified, Fully Health Checked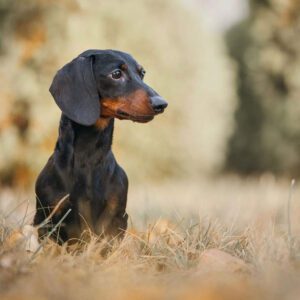 Master Boris
Boris is our mini firecracker.
All the girls love him as he's playful, gentle but confident.
A Multiple Title holder, Boris is no stranger to the Arena but he's happiest at home with his ladies!
He is a perfect example of a miniature smooth dachshund.
*Black and Tan Miniature Smooth Haired Dachshund, FCI registered and Health Tested
Miss Sassy
If you met her, you would know this little sausage is destined for big things.
Sassy 'pot' is a true beauty and a perfect example of the breed. She's cheeky, fun loving, and about to embark on her journey in the show ring. We know she will make us proud.
Sassy's favourite pastime is playing with her favourite teddies. She doesn't like to share!
*Chocolate Dapple and Tan Miniature Dachshund, FCI registered and Health Tested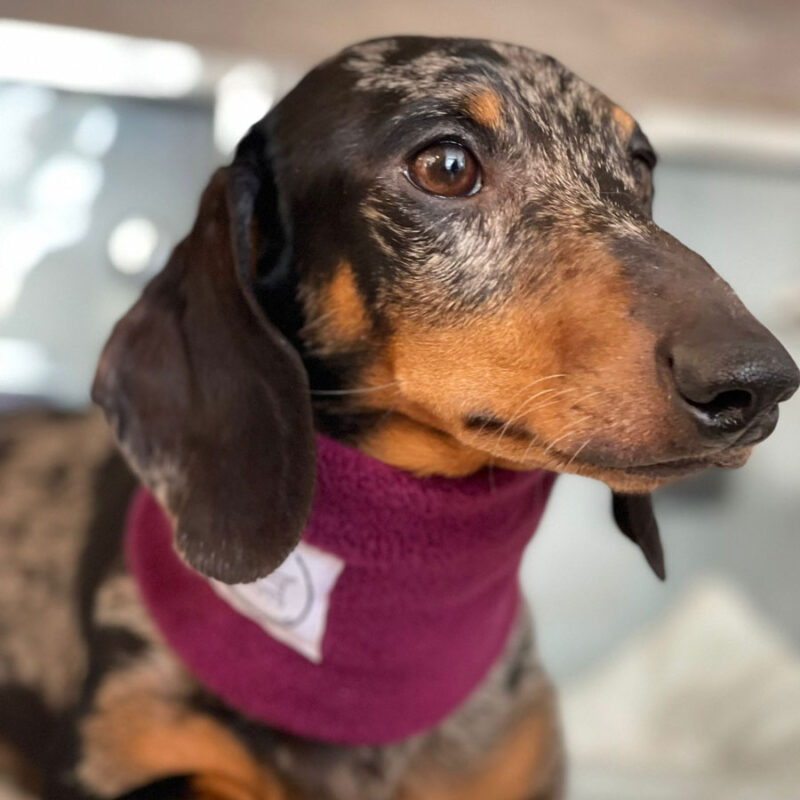 Master Oliver
Oliver is the most loyal, dependable, uncomplicated silver dapple smooth haired boy.
He loves his life in Bulgaria living amongst his favourite ladies. He is a shining example of the correct temperament of a mini dachshund and a firm favourite in the kennels. Olivers offspring are perfect family pups. Taking after their loveable father.
*Silver Dapple and Tan Smooth Haired Dachshund, FCI registered and Health Tested
Miss Rosie
Little Rosie Posie is a multiple winning champion. A perfectly sized miniature smooth chocolate and tan girl.
Not only has Rosie proven herself to be a shining Champion but also an excellent mother with Champion children of her own. She is loved and adored by all of the team in Bulgaria. Her favourite Sausage friend is Oliver, well of course! He has sired all of Rosie's beautiful litters. Rosie will retire this year.
*Chocolate and Tan Miniature Smooth Haired Dachshund, FCI registered, and Health Tested
Miss Kara
Kara is our perfect little black and tan mini girl. She's fun and feisty, loves a game of dress up and is a super little Mommy.
Exceptional bloodlines, Kara has produced some winning Champions.
Kara's favourite game is hide and seek – she loves to hide under her bed and blankets
*Black and Tan miniature smooth, FCI registered, Health Tested
Miss Sarah Jayne
Our Sarah Jayne is a perfect gentle girl.
Exceptional pedigree from famous Russian bloodlines, Sarah is a perfect example of a mini smooth dachshund.
Sarah's favourite pastime is being Marina's shadow.
She loves to follow her round in the hope she can steal extra cuddles.
*Red Miniature Smooth, FCI registered and Health Tested
Miss Emery
Miss Emery, our Junior Champion, is instantly recognisable by her tiger brindle coat. She always has a spring in her step and a super waggy tail.
Selected for her quality bloodlines, and from the same kennel as Miss Malone, we know that this girl has a bright future and will be a gentle mother.
Emery's favourite game is to play hide and seek, particularly when it's time to come back inside.
*Red Brindle Miniature Smooth Dachshund, FCI registered and Health Tested
Our Bonita
You only have to look at photos to understand why we are so proud of Nita. She is a perfect miniature dachshund with outstanding proportions. She also has the most loving disposition.
Nita has qualified for Crufts two years in a row and has a long list of winning titles across Eastern Europe. The word proud doesn't quite cover how we feel about her!
Now retired from the limelight, Nita is a wonderful Mommy and we are looking forward to more puppies in the future.
She is our Red Superstar!
*Miniature Red Smooth, KC Registered, Fully Health checked
Hannah 'Banana'
Hannah is a smooth haired miniature girl of perfect proportions. A happy girl, she is always wagging her tail and the first to greet us in the mornings!
From exceptional bloodlines, Hannah has been chosen for her perfect lines. We know she will make a wonderful mother and we are so looking forward to her first litter 2023.
Hannah's favourite thing is to help with the cleaning! Chasing the mop around the room!
*Red Miniature Smoothhaired , FCI pedigree, KC Registered & Fully Health Tested
Master Marcel
Marcel is a fabulous red smooth haired mini that we are delighted to say is our boy.
He is fun loving, gentle and kind. We know that he will be fabulous in the show ring and look forward to him becoming a Father one day.
From highly respected Pedigree and Champion lines, Marcel has a bright future ahead of him.
*Red Miniature Smoothhaired , FCI pedigree & Fully Health Tested
Master Franco
Son of Boris, Franco is very much the handsome stud his Daddy is. He is a perfect pocket sized mini smooth boy.
Franco is cheeky, loving and the most favourite playmate of all our infants. Lovingly known as Papa Franco, he has endless patience with the pups and loves to play and chase them for hours on end.
Exceptional pedigree and perfect conformity, Franco, like Daddy, is an excellent stud.
*Black & Tan Miniature Smooth haired. FCI registered, KC registration pending, Health Tested
Miss Emily
You only have to look at her petite face to see a little angel. She really is just that!
Emily is a mini smooth red with a beautiful pedigree and exceptional temperament.
We are looking forward to welcoming her first litter 2023 and truly believe she will love being a mother as her favourite pastime to always to play with the infants and cuddle up with them.
Emily's bestie is Sarah Jayne, like two peas in a pod, these girls are fabulous!
*Red Miniature Smooth haired. FCI certified, Health Tested
Little Joy
Joy is a mini smooth haired Chocolate Dapple and Tan girl. Aptly named, as she is a true pleasure.
Joy is a great friend to all the girls and is a lovely mentor to the puppies in the nursery.
She is an excellent example of a true miniature smooth dachshund and is very much loved by us all.
* Chocolate Dapple and Tan Miniature Smooth Haired, FCI pedigree, Fully Health Tested