Dachshund (Miniature Long-Haired)
This recognisable breed is characterised by its long back, short legs, and diminutive stature. Despite its small size, the Miniature Long-Haired Dachshund remains strong and robust, boasting a well-muscled body, a broad chest, and sturdy front legs. Its coat is long, dense, and available in a variety of colours.
At Coots at Eversden we only breed FCI & The Royal Kennel Club recognised Breed Standard Colours. This is to ensure excellent health and quality.
All our boys and girls are recognised Champions prior to becoming mothers and fathers. Each dog has also been inspected by a minimum of three breed specialists.
DJ
Like Father like Son, DJ is a shining star at Coots at Eversden.
Our devilishly handsome boy has accumulated more titles and trophies than you can imagine. A truly acclaimed long haired mini boy who we are proud to say is a World Champion.
DJ, Like Danny his father is a gentle, playful boy. Best friends with the other long haired sausages, when he's not competing he does rather favour Lady Emma Watson. Hard not to see why they aren't the best of pals!
If DJ can fit us in between his busy schedule jet setting round the world competing, we plan for him to sire some beautiful litters.
Princess Lottie
We get excited when we talk about our Princess.
A Shaded Red Long Haired Miniature Dachshund bred from the very best bloodlines, her parents are both World Champions and exceptional loving dachshunds.
The apple of our eye, we are so excited to see Princess Lottie develop and grow. She is the sweetest most loving Sausage in the Coots Family.
Lottie's favourite thing in the world is cuddles. Particularly Mommy Coots cuddles.
*Shaded Red, Miniature Long Haired, KC registered, Fully Health Checked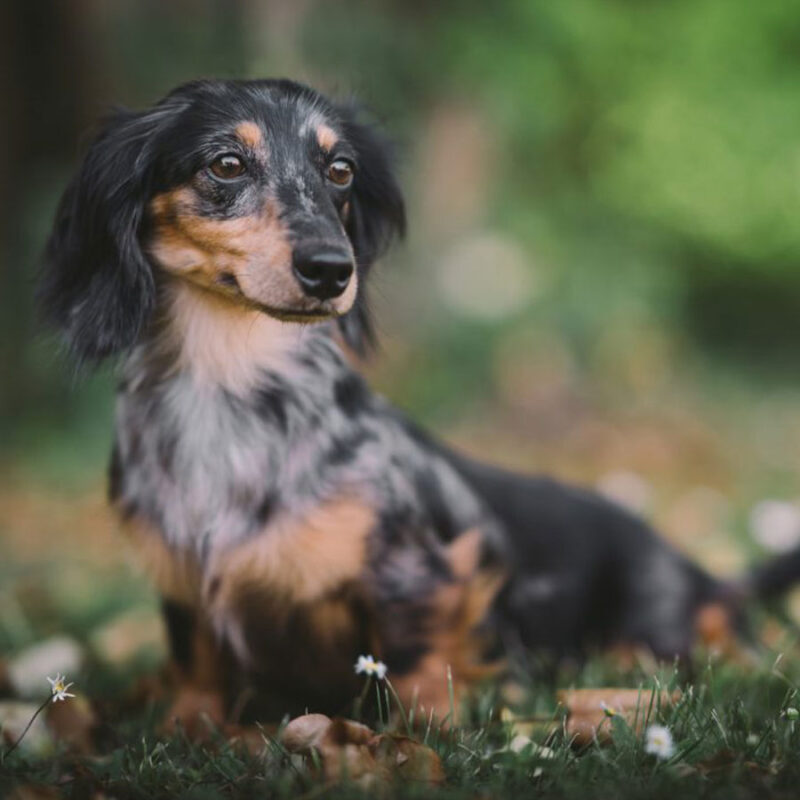 Miss Penny
Miss Penny is so much like Miss Daphne. Both such sweet pretty silver dapple mini long haired girls.
A perfect Mommy, so attentive and gentle, Miss Penny is one of our most affectionate girls.
Penny's beautiful pedigree and confirmation has won her titles in the show ring.
Her favourite things are her teddy, pigs ears and lots of cuddles.
*Silver Dapple and Tan Mini Long, FCI registered, Health Tested.
Miss Nutella
Our hairy little princess is a huge character and will certainly be a wonderful mother.
Nutty is a Miniature Long Haired Chocolate and Tan. She has the best 5 generations of pedigree and has a beautifully fun loving personality.
Nutty is enjoying growing up with her Coots family she loves Malone, she's her favourite playmate. Oh our favourite thing about her is her ears! They go on and on and on!
*Chocolate and Tan Mini, KC Registered, Fully Health Checked
Miss Daphne
Miss Daphne resides in our show kennels in Bulgaria. She is one of the sweetest, gentlest sausages we've had the pleasure of calling ours.
A beautiful silver dapple and tan mini long haired girl, our Daphne lives for cuddles, adores kisses and is the most devoted mother.
Daphnes gentle and calm disposition is a winning formula for us at Coots. Not to mention her exceptional pedigree.
*Silver Dapple and Tan Mini Longhaired Dachshund, FCI registered and Health Tested
Miss Holly "Bobs"
When Holly arrived with us in Bulgaria we knew she was special and our miniature princess knows it.
A perfect little Red Longhaired Miniature from impeccable World Champion Bloodlines.
Holly is bubbly, ridiculously loyal, crazy loving and steels the hearts of everyone she meets.
We are beyond excited for her first litter 2023. Holly is one to watch! A true Marilyn Monroe in the making. Just look at her coat!
*Red Miniature Longhaired Dachshund, FCI registered, KC registered and Health Tested
Danny Boy
He's amazing!
Don't take our word for it. Danny is a Multiple Champion and World Class Winner. He never disappoints .
In the ring and at home, Danny has the perfect temperament. He's a gentle lad and with a single look he melts you.
Proud doesn't begin to describe how we all feel about him at Coots.
*Shaded Red Miniature Long Haired Dachshund, FCI registered and Health Tested.
Oh Romeo
Already a Champ and loved by he meets, young Romeo is the apple of our eye.
He has a striking Red Brindle long haired coat which is what sets him apart from his friends. A rich conker red colouring which is unusual and very striking.
When not competing, Romeo loves his ball and lives for Goats Ear Treats.
His future children are definitely worth looking out for.
*Red Brindle Long Haired Miniature Dachshund, FCI registered and Health Tested.
Miss Rina
Miss Rina is named after Coot's Marina. That must mean she is special! Rina is like her Mommy in every way. They look like twins and have the same ridiculously loving lively temperaments.
Rina is a joy to be around. She promises great things in the Show Ring like Mommy too. Watch her journey as she's a super little girl.
*Shaded Red Miniature Long Haired, FCI registered, Health Tested
Miss Monica
Miss Monica is not only a Champion but also great Mommy and loving playmate.
One of our most loving girls at Coots, Monica likes sometimes a few too many kisses! Her favourite pastime is sitting on your knee being cuddled.
Coot's beautiful little sweetheart.
*Shaded Red Miniature Long Haired, FCI registered, Health Tested
Little Merlin
 Merlin is definitely one to watch as he promises to be a big Champion at Coots.
A perfect Black and Tan Long Haired boy we love his cheeky face and cheerful disposition. His coat is becoming the envy of his brothers and sisters.
Always first for cuddles and to ask you to throw the ball for him, Merlin has a very bright future ahead of him.
*Black and Tan Miniature Long haired, FCI registered, Health Tested
Charlie Boy
This little boy is the perfect Miniature Longhaired Shaded Red and the love of Mommy Coots life. A true prince inside and out, Charlie is gentle, kind, well mannered and exceptionally handsome.
Charlie has just embarked on his International Show life. We know he will be a star. He has a superb pedigree and promises to be a wonderful father.
Charlie's favourite pastime is definitely cuddles and being groomed. He loves the fuss and attention.
*Miniature Longhaired Dachshund, Shaded Red, International Pedigree and Health Checked
Miss Zoe
A little spirited, fun and friendly sausage, that's our Zoe. She is coveted for her beautiful rich chocolate long coat and soulful green eyes.
Best friends with Daphne & Penny, Zoe's favourite pastime is destroying squeaky toys and meeting new friends.
She is a superb mother and we are truly excited for her litter this year with Master Vinnie. These puppies will be amazing.
*Miniature Longhaired Chocolate & Tan, FCI registered and Health Tested.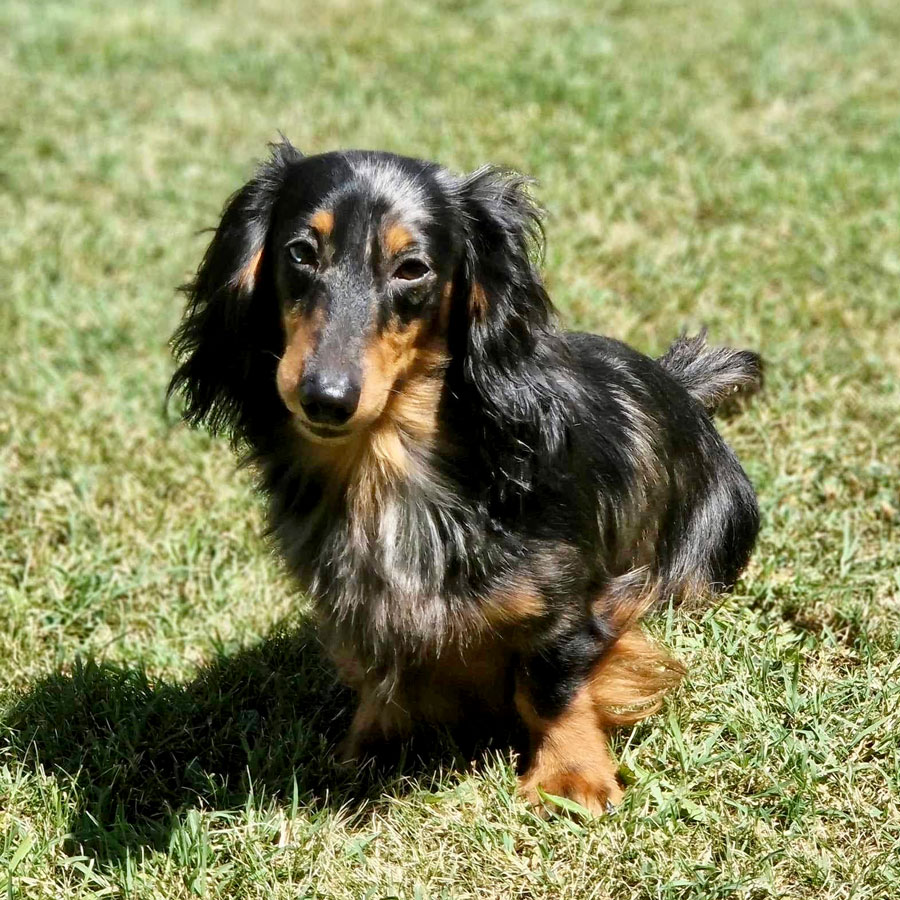 Master Vinnie
Vinnie is loved by all he meets. Adored for his Silver Dapple coat and gentle eyes. We are super proud of our Coots at Eversden boy.
Our handsome boy has a perfect dachshund temperament. He's loving, loyal and kind and produces the most wonderful children!
Vinnie's favourite game is fetch, he loves his ball! No one can ever keep up with him!
*Miniature Longhaired Silver Dapple & Tan, FCI registered, Heath Tested
Our Amore
This little girl is the apple of Kate's eye. Amore (Am- or-ray) has exceptional pedigree champion lines and we are sure is set to become a Champion herself.
She is the ruler of the pack and has everyone running in circles for her! Loved by everyone for her cheeky disposition and of course amazingly beautiful little face.
We can't wait to watch her grow and look forward to her becoming a mother herself one day.
*Shaded Red Miniature Longhaired, KC registered, Health Tested.
Miss Dotty
Our Miss Dotty truly is a little Dot. A very small mini longhaired chocolate dapple girl.
Dotty loves to keep us on our toes with her busy, happy personality. She is an endless bundle of fun and energy always wanting to play and have extra cuddles.
Not just a pretty face, Dotty has her own Championship titles, she also knows how to charm the judges.
We are excited for her to become a mother as we know her pint size children will be equally as fun loving as her.
*Miniature Long haired Chocolate Dapple, FCI Pedigree, Fully Health Tested.
Master Timmy
A Grand Champion, Timmy always makes us proud. He is a superstar in the showring and a fabulous boy at home with his friends.
Timmy is a perfect little dachshund, he has the heart of a lion but is as gentle as a lamb.
All the girls love him and he is particularly kind to them. A winning personality.
*Miniature long haired Black and Tan, FCI Pedigree, Health Tested
Miss Harriet
Harriet is another shining star at Coots at Eversden. Not just a Grand Champion herself,  but also a wonderful mother to some incredible children who are also now Champions.
Harriet loves being a mother. She has endless patience and loves to care and look after all the puppies in the nursery.
Our favourite thing about Harriet is her smile!
*Miniature long haired Black and Tan, FCI Pedigree, Health Tested
All Coots Sausages are fully health tested. We are happy to share Health Reports with prospective new Coots Puppy Owners.